Interactive
Uncover interactivity on a new level.
High Brightness
View stunning images in high quality.
Epson Malaysia - George Town Art Festival
Arts meet technology in Epson's collaboration with 3 renowned visual artists at the George Town Festival 2016 in Penang. The collaboration features projection showcase and visually immersive installation by LightForge team, Lee Lee Nam and Gabriel Pitcher.
Epson Singapore – Projection Mapping on the stage backdrop of Rock of Ages
A case study with Rock of Ages Services on deploying Epson EB-Z Series high brightness projectors for their client's worship service, utilising multiple projectors to create an immersive environmental projection for a widescreen backdrop.
Epson Malaysia – An immersive experience in Odeon Museum
Experience the feeling of nostalgia and relive your memories in the olden days of Penang by the animated visuals in a 270-degree projection in Odeon Museum (Penang) with Epson 3LCD high brightness projectors.
Epson Philippines – Watch Star City Amusement Park come to life
An immersive family experience awaits you at the 360-degree dome projection in Star City Amusement Park in Manila Philippines, made possible by Epson 3LCD high brightness projectors.
Epson Arts House Projection
Epson Singapore celebrated the 10th Anniversary of the Arts House at the Old Parliament with its 3LCD high brightness projection displays. Happy 10th Birthday, Arts House!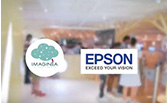 Epson Thailand - Imaginia Children's Playground
Epson high brightness projectors are deployed in an amusement park for children. There are two main applications; a panorama curve screen (with edge blending) tells a story to engage the children.